ACCELERATE VIDEO & AUDIO REDACTION
Talk to our experts to learn how to save time in no time.
See Redact live in a quick online demo.
SEE VERITONE REDACT IN ACTION
"It literally took me ten minutes to understand how Redact works, the tool is very intuitive. Redaction has never been easier or faster."
START FREE TRIAL
By submitting this form, you agree to allow Veritone to collect, store, process and use your information and data, and you agree to receive email communications from Veritone. See our privacy policy for details regarding the information that we collect and how we may use and share such information.
START FREE TRIAL
Save time & increase productivity by automating the redaction of video & audio evidence with AI
Gone are the days of time-intensive, frame-by-frame evidence redaction courtesy of our automated face detection and automatic tracking of manually selected sensitive imagery. Need to redact audio too? Just search for keywords in the automatically produced transcript, highlight what you want to be redacted and instantly that audio is removed too.

3 Easy Steps to Redacted Media Evidence
Upload audio & video evidence from any source.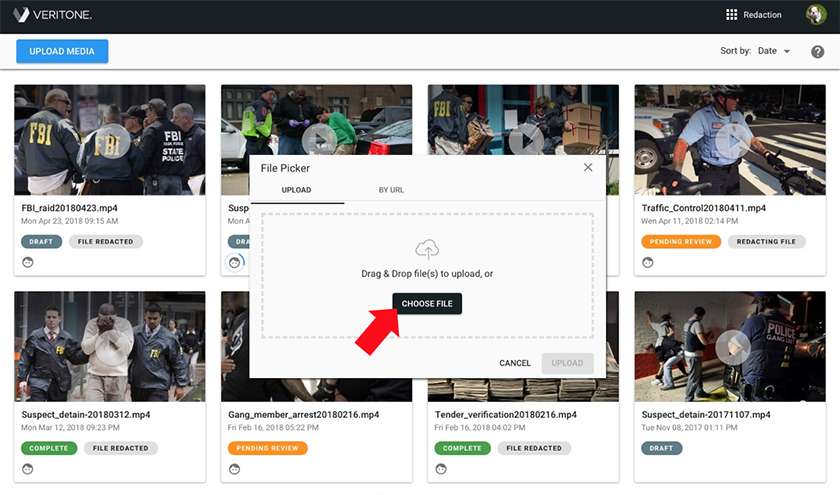 3 Easy Steps to Redacted Media Evidence
Auto detect faces and select additional items and audio to redact.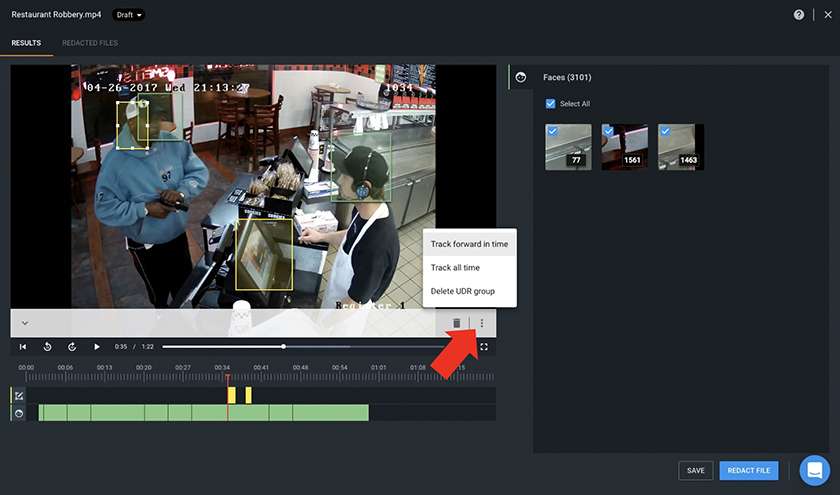 3 Easy Steps to Redacted Media Evidence
Start auto redaction. Simply share or download once you're done!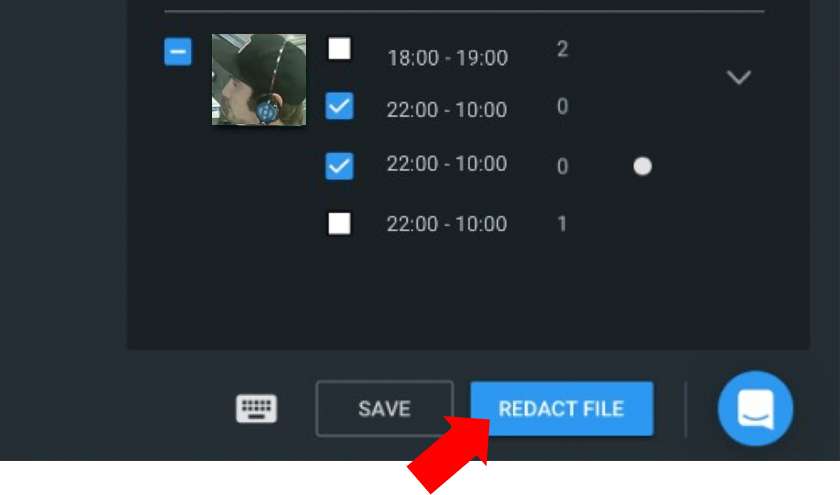 Unlimited number of users per organization

Video Redaction (manual and automated)

Audio Redaction (keyword searchable)

View and share redacted media files
GET STARTED
Pay for what you use. No hourly minimum.
REQUEST A QUOTE
Talk to us about a solution tailored to your team's specific needs.
EASY-TO-USE
Simple app that runs in your web browser that uses AI to automatically detect faces and transcribe audio for fast redaction
AGNOSTIC
Works with any camera hardware provider, any video or audio type

FLEXIBLE
No software needed - all you need is a desktop, browser and internet connection

SECURE
Option to host in AWS GovCloud to support CJIS requirements

RELIABLE
Automatically redacts faces, objects and audio with high accuracy

FAST
Results in up to 90% time savings, freeing up resources
Automatic detection of faces and heads within video evidence
Select additional sensitive items in video and keywords in audio for redaction
Redact video evidence automatically with one click
Remove privileged or Personally Identifiable Information (PII) from evidence prior to distribution
Comprehensive reporting of all actions taken against redacted evidence
Mark redacted evidence as relevant or privileged
Check your work in application with redaction preview filters
Download redacted files with audit logs to support chain of custody to your computer
Send shareable redacted evidence files for quick distribution in inter and intra-agency workflows
Automatic transcription of audio evidence
Makers of the first Operating System for AI
EASILY SELECT AUDIO
FOR REDACTION
Simply select words from the automatically generated transcript, search for sensitive keywords, or click on the timeline